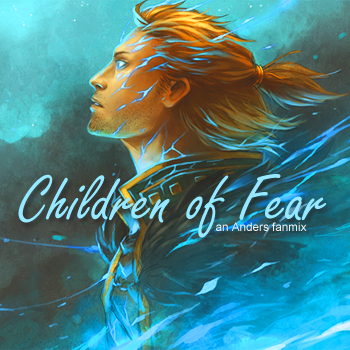 ALI PROJECT - 戦慄の子供たち
Can you protect me, comfort me, break me?
This body breathes in what I cast off
Your fingers pull on the trigger
In the cracks on my glistening heart
Tying us, surrounding us, raising us, letting go
We fight against our earnest freedom
Cursing, dreaming, neglecting, praying
For our fate! I just want to live
But my life is yet to remain

Laura Marling - The Beast
Instead I got the beast
And tonight he lies with me
Tonight he lies with me
Tonight he lies with me
And here comes to beast

Fleet Foxes - Someone You'd Admire
I walk with others in the yearning to get out
Claw at my skin and gnash their teeth and shout
One of them wants only to be someone you'd admire
One would as soon just throw you on the fire

After all is said and after all is done
God only knows which of them I'll become

ALI PROJECT - GOD DIVA
Come on, welcome
Here is the land of salvation
You should just be silent
And leave your body to me
Please forget, please forget
About the indefiniteness of this world
Along the road that you wish to walk
There's a rose-colored catastrophe

Black Lab - This Night
There are things
I have done
There's a place
I have gone
There's a beast
And I let it run
Now it's running . . .
My way

Evanescence - Lacrymosa
I can't change who I am.
Not this time, I won't lie to keep you near me.
And in this short life, there's no time to waste on giving up.
My love wasn't enough.

Fleet Foxes - Your Protector
She left a week to roam
Your protector's coming home
Keep your secrets with you, girl
Safe from the outside world

Beach House - Irene
Though you hardly know her
The light's on its way
The hand that rests upon it
Still wanna stay

Three Days Grace - Animal I Have Become
I can't escape this hell
So many times I've tried
But i'm still caged inside
Somebody get me through this nightmare
I can't control myself

Florence + The Machine - Heavy in Your Arms
This will be my last confession
I love you never felt like any blessing
Whispering like it's a secret
Only to condemn the one who hears it
With a heavy heart

Gackt - Uncertain Memory
What should I hope for in a prayer
That will never reach anyone...?
If I fall with you, my sin will disappear

Queens Of The Stone Age - Everybody Knows That You Are Insane
Everybody knows that you are insane
You wanna know just how long you can hide from what you are?
Not very long
I have been lost. Down every road i follow out in the dark
On my way home

Poe - Haunted
And I'm haunted
By the lives that I have loved
And actions I have hated
I'm haunted
By the promises I've made
And others I have broken
I'm haunted
By the lives that wove the web
Inside my haunted head

Ivy - One More Last Kiss
I'm not here making excuses.
But no apologies could change
The way this all will end.
We're only just what we're made of.
I'm only sorry that we can't have this chance again.

So one more last kiss like two prisoners.
One more last kiss to hold on to.
One more last kiss just to remember you
Before we fade away, before we fade away.

Florence + The Machine - I'm Not Calling You a Liar
There's a ghost in my lungs and it sighs in my sleep
Wraps itself around my tongue as it softly speaks
Then it walks, then it walks with my legs
To fall, to fall, to fall at your feet

op. - Dopo il Sogno ~夢のあとに~
Listen, Hail Mary,
His sorrow, his sad accents,
let him hear the mercy of your heart.